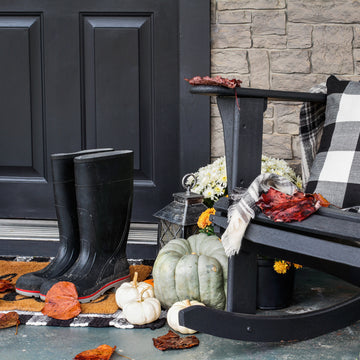 It's officially time to say goodbye to summer and welcome fall into your home. Let's face it, we all squeezed those last few summer moments out and are anticipating dusting off our sweaters, thick knit blankets, and brewing up some chai tea. Along with out clothing and taste but transition, changing up your home for the coming season is a great way to prepare for fall.


Switch out decorative pillows and throws – The living room is a great place to start with transitioning your color palate to toned down fall hues. Consider reds, oranges, browns, greens and tans, for throw pillows on your couch, blankets, and even curtains. This goes for bedroom pillows as well. You can even go as far as to change up your bedding too.



Add fall foliage to your space – Pick out pumpkins, gourds, wheat, leaves, and stems and make them part of your décor. Create tabletop centerpieces, mantle displays, stick them in vases or bowls.



Change your scents – Forget your coconut candles and summer beach diffusers and opt for a more fall approach. Think pumpkin spice, apple orchards, and cinnamon. Lighting a candle with matching fall scents of tobacco and pine can really transform a setting.



Place a wreathe on your door – It doesn't need to be Christmas for you to place a wreathe on your front door. Try incorporating pinecones, wheat stems or corn for a fall inspired wreathe.



Get your fire ready – This can mean your outdoor firepit or indoor fireplace. Make sure its up to code and ready to light up. These crackling fires are perfect for chillier nights of relaxing by a warm fire.