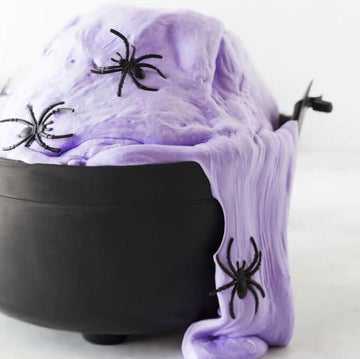 Carving pumpkins, taking hayrides, getting lost in corn mazes, and classic Halloween flicks, there is not a shortage of Halloween fun to be had. Although some traditions may seem a bit different this year, there isn't any reason not to gather the family and five into some of these fun crafts, games, and activities to keep your kiddos in the spooky mood this Halloween!
For spooky home decor, check out our Halloween Shop!
Listen to Spooky Stories
A good classic spooky time can be gathering around the radio (or Alexa), listening to those creaky steps and things that go bump. Light candles and get the flashlights to really set the mood. You can even be your own narrator and do all the sound effects by making your own instruments and get each kid to be involved and participate.
Binge Disney+ and Netflix Halloween Specials
Nothing is more cozy than a good snack mix, lots of blankets, and a good Halloween movie with the family. Plan a special movie every Friday or Saturday night, or let the kids choose one while you gather the popcorn and candy corn.
Fluffy Halloween Slime
Keep those little hands busy with this Witch's Brew Fluffy Slime (littlebinsforlittlehands.com), full with video tutorial and only 5 simple ingredients, this brew will be fun for the whole month of Halloween.
Painting Rocks
Get your creative spooky juices flowing and come up with some characters to paint into rocks, Frankenstein, Count Dracula, Zombies, or jack-o-lantern, whip up a game of tic-tac-toe, or full on zombie apocalypse, take your pick. Rock painting tutorial at simpleeverydaymom.com
Scavenger Hunt
Whether around your home, your neighborhood, or on a drive, take the kiddos on a scavenger hunt for all things spooky. Search for ghosts, skeleton pet, or even a zombie gnome and check off your list and make sure everyone gets a prize, or a pat on the back. Great for both young and old kids, funlovingfamilies.com has some great free printable Halloween scavenger hunts.
Pin the Spider on the Web
The classic game with a Halloween themed twist. Grab some cardboard, a whiteboard or this free printable, and a wiggly spider, and who ever gets the closest to the center wins! Best part, you can play over and over again.
Halloween Charades
Perfect for kids (and adults) of all ages, charades can be a great group activity. Write down spooky phrases, characters, or movies on pieces of paper and put them in a witch's hat, or pumpkin pail, for a mysterious and spooky game. You can even check out this printable version from happinessishomemade.net for more ways to play.
Bean Bag Toss
With some plywood and black and orange paint, you can make your own bean bag toss game, with a Halloween theme. Short of supplies? Grab your carved pumpkins and use them as a bean bag toss at various distances
Bobbing for Donuts
Similar to the classic bobbing for apples, but with a lot more sugar involved, tie some donuts to a string let the kids go to town, no hands allowed. Add one more step and let the kids decorate the donuts with sprinkles and frosting, all Halloween themed of course. Whole tutorial at marthastewart.com.
Tin Can Bowling
Spooky and adorable, this DIY tin can bowling is a perfect indoor or outdoor activity. Grab some old soup cans, or canned pumpkin (since I'm sure it's a staple in your cupboard these days), a tennis ball or mini pumpkin and try to knock down all the cans, first one to hit all 6 cans wins!
For spooky home decor, check out our Halloween Shop!