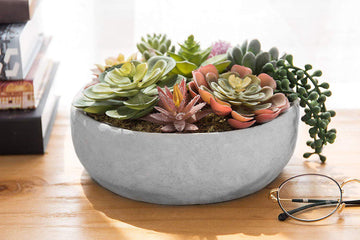 Artificial plants are often chosen over real plants, due to their easy care and maintenance. But that doesn't mean that they require no maintenance at all. If not properly cared for, your artificial plants can collect dust, lose color/vibrancy, and look not as real or lifelike as they should. 
Your favorite faux plants will require regular cleaning and care, but thankfully, not as much as their real-life counterparts. Most of the well made artificial plants look realistic, as well as hold their original look for a very long time. With artificial plants, you no longer need to water, trim, or repot your greenergy, simply place them in your favorite nook of the house and add a warm charm to your interior. 
How to clean your artificial plant
The best way to clean an artificial plant should always start with regular dusting. A feather duster, swiffer, or electroduster are all great ways to remove that light coating of dust that collects in any house. 
For removable foliage
For really tough stains/marks, you might need to do more than dust. If your plants can come out of its original container, you can clean them in a number of different ways. 
1. Take them out and run them under cold water. 
2. Place them in a container of water with one teaspoon of dish detergent, spraying with a hose if available. Shake to air dry and lightly pat with a towel, careful not to bend or break the stems. 
For silk plants, see this article for proper care. 
For even tougher stains/marks
If that still doesn't do the trick, you may try to clean it with a window cleaner with ammonia D. Make sure to set it in the sun to activate the ingredients, and dry with a microfiber towel. 
Which artificial plants are best?
It really depends on the purpose and what style you're going for. In terms of look, we recommend faux plants that have a realistic look, and are easy to take care of. Succulents, vines, and cactus are often among the most popular plants we've seen. 
Shop our artificial plant collection in our store to see some options, and keep your home feeling lively and vibrant.