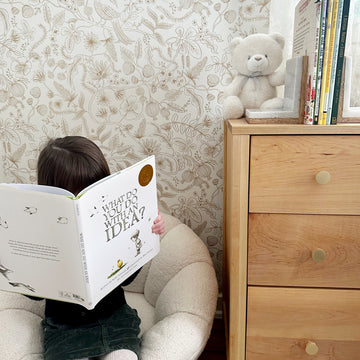 Anyone else needing an escape from the bitter winter and also wanting a cozy spot to cuddle up with a good book? Not just us? Great! Not every place calls for an elaborate bookcase or plush couch, with these simple ideas you can turn any corner or space into the perfect little getaway for yourself. Find a place in your home that is free from distractions, it could be an alcove, under the stairs, a window, a natural or new built-in or even a corner in a bedroom or living room. Fewer distractions the better, try to minimize clutter and decorations, keeping is simple, clean, and cozy. Throw in a few extra patterned pillows for some added color and texture, or use furniture or paint to add a splash of color in your space. With all the other details set aside, here are some simple rules to incorporate into your new found reading nook.
Seat or Cushion
This is obviously the place for you to relax with your book, so find something that is comfortable to you. This might mean a large armchair, a hammock, large pillows and cushions.
Efficient Light
Hanging pendants, floor or table lamps, book lights, all make great lighting for your reading nook and can be a fun way to add some personality to your nook design. Windows can also be a great source of light, but remember to have some sort of artificial light for when the sun goes down.
Book Storage
No need for a large bookcase, you can use small bookshelves for a few books, carousel book holders, create built-in book storage shelves or you can even stack books. Having a space for you books is important when creating your reading nook, since they will be the main focus of your space.