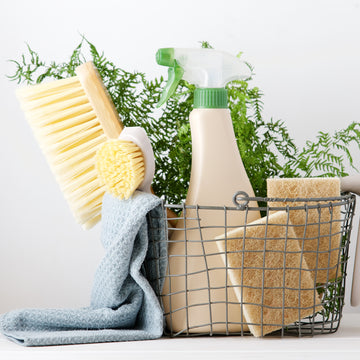 When cleaning your home, it may cross your mind the different chemicals and ingredients (most of which you probably can't pronounce) that are in your household cleaners. Ever wanted a more natural alternative to the harsh chemicals without having to spend lots of money of "natural" and "organic" products? Don't worry, we are going to help you cover the basics to creating a more natural lineup for all hour household cleaners. With basic natural household products like vinegar and baking soda, you too can save money and add a bit of green in your cleaning routine.
Safety Tip: Remember when mixing chemicals to never combine ammonia-based cleaners with chlorine bleach or even products containing bleach. If combined, the fumes can be extremely dangerous if inhaled. Be sure to always label your DIY cleaner bottles to know what it contains.
Baking Soda: The most versatile of the lineup is baking soda. It is great for getting rid of odors in a litter box, the bottom of the trash, your refrigerator, or even your tennis shoes. What also makes it great is it is biodegradable, non-toxic for children and pets, and is great to use in the kitchen or bathroom. Another reason baking soda is the best is it goes well with other natural cleaners such as vinegar. When combined they are perfect for cutting through grime while leaving surfaces sparkling.  
Dish Soap: It is sort of the workhorse in the cleaning product lineup. It can be used for getting grease stains out of clothing, to making your tires sparkle, and obviously makes your dishes shine too.
Microfiber Cloths: Great for cleaning up spills, wiping down surfaces, dusting, on glass, stainless-steel appliances, and so much more. For best results get your microfiber cloth slightly damp before use, and be sure to designate certain cloths for certain areas of your home. No one wants to wipe the windows with the cloth they wiped the toilet. Be sure to wash your microfiber cloths regularly on their own, not accompanied with clothes or other towels.
Related Links:
Tips for Keeping Your Bathroom Cleaner Longer
12 Simple Spring Cleaning Tips and Tricks
Our Definitive Guide to Spring Cleaning 2019