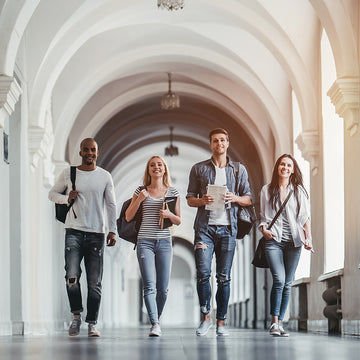 Now that you've graduated high school and are headed off to college this fall, most likely you've got a long list of essentials you'll need to get through the school year. With this school year being different, there are bound to be some extras on your list such as protective masks and hand-sanitizer. But how do you know which items are going to be essential to your success and comfort of your new chapter of your life?
No matter if you are living in the dorms or housing in an apartment, we've narrowed it down to the most important items you will need to make your college experience both exciting and comforting.
Bedding
Comforter: An important way to make your room feel like home and getting a comforter that matches your style. Try washing it at home before taking it to college to keep that homey smell with you longer.
Sheets: Don't skimp on comfort when it comes to sheets, get something that will last through the school year and beyond, with both a fitted, flat and preferably pillow cases as well.
Mattress Cover: Since you more than likely will be sleeping on a used mattress, it might be a good idea to invest in a good mattress cover to protect you from years of use.
Pillow Rest: Reading, listening to music, and just lounging, this Sherpa pillow rest will be great for any bed size and comes in multiple colors.
Eye Mask: A comfortable blackout sleep mask can be useful for afternoon naps or while roommate are doing late night study sessions.
Alarm Clock: You can't always rely on your phone to get you up in the morning, so set your alarm clock to be sure you never miss those early morning classes.
Study Station
Noise Cancelling Headphones: Great for blocking out noise while studying at your desk, in the library or common areas.
Charging Desk Lamp: Beside the bed or on your desk, this lamp includes a wireless charging pad and built-in USB port so you can charge multiple devices at once with extra light.
Desk Organizer: Keeping all your syllabus, notebooks, and text books is super important so you don't lose track of anything important.  Letter trays and desk organizer bins are great for keeping everything sorted and in one convenient place.
USB Power Strip: You can charge your laptop, phone, plug in your lamp and other devices easily with this 5ft power strip extension cord with USB.
Weekly Planner: This will be one of your best tools in keeping track of tests, deadlines, class schedules, extra-curricular activities, and holidays.
Backpack: Yes you will need one. When hauling all your books, laptop, notebooks, chargers, water bottle, and more from class to class, its important to find the perfect backpack to get the job done. Durable, lightweight, with multiple compartments, and don't forget stylish.
Storage
Wall Hooks/Over-the-Door Storage: Great for backpacks, jackets, shoes, and towels, having over the door hooks or organizers can save a lot of space.
Under-the-Bed Storage: Another space to utilize is under the bed. Place shoes, bulky sweatshirts, extra blankets and more in a roller bin that's easily accessible.
Laundry Bin: Be sure to get one that you can carry from place to place and that won't keep your room stinky.
Furniture
This one might be more important to wait until you've seen your room and what sort of space you are working with. Maybe a beanbag chair would fit better than a recliner. This can even include things like a nightstand, desk, chair,
Bathroom
Shower Shoes: Who wants to shower in a dorm without them? Let's face it those dorm showers aren't washed as often as they should be so protect your feet with some stylish shower shoes.
Shower Caddy: Especially in dorms, shower caddies are essential to keeping your towel, soaps, brush, luffa and all your other bathroom accessories in one place.
Soap: Organic and versatile, Pure-Castile Liquid Soap is great for washing your hair, body, or even your dishes.
Towel: A hands-free towel wrap is perfect for the communal showers, making carrying your caddy easier without having to worry about your towel falling down.
Extras
Label Maker: Great for designating which food is yours or labeling notebooks for each subject, you can print labels right from your phone.
Protective Masks: With most schools bringing back mask mandates its important to have enough masks for each day of the week so you can wash them after each use.
Hand Sanitizer: Misting hand sanitizer will keep you, your friends, and your classmates from passing germs around.
Disinfecting Wipes: Ideal for quick clean ups and a great way to stay germ free.