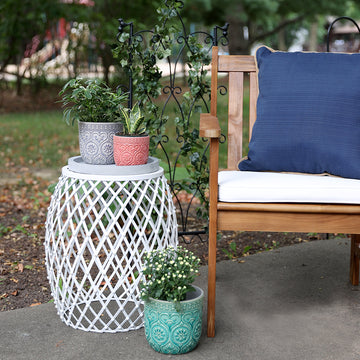 With fall seeming to be quickly approaching and summer drawing to a close, everyone is trying to soak up those last moment in warm summer days and nights. You may be wishing you had that perfect outdoor setting to be able to relax for the next few week, but don't worry, there is still time to add those last-minute touches to your outdoor space to make sure you squeeze every last drop of summer out of your patio. No matter if you have a balcony, porch, patio, or deck, these small touches will elevate your space, making them even more desirable in the coming weeks.
Somewhere To Relax
Don't think full lounge set, just keep a comfy swing, seat or bench outdoors so you can enjoy your morning coffee, afternoon tea, or evening wine. Something as simple as this Joliet Wood Chair Seating Set can be just what you need for some seating in your outdoor area.
Sufficient Tabletop Space
Ok you might not have a 4 person table or even a coffee table set up outside, but that doesn't mean you shouldn't utilize the surface space you can create. Consider even a small side table like our White Metal Lattice Side Table. Best part it can double as a stool for extra seating if need be.
Something Green
If you've got a small green space, add a cute trellis like our Antique Scrollwork Metal Garden Trellis will look great with live or artificial plants. We can't all wait 20 years for ivy to perfectly cultivate, so consider artificial plants that will last much longer. You could even use it for growing vegetables such as beans, peas, and other vine crops such as squash, melons, or cucumbers.
Plants 
You might already have some plants lying around or might want that extra added vibrancy, add them to your table or even just around your furniture. Keep plants that you'll be able to take inside once it begins to get chilly at night. We've housed our outdoor plants in these adorable Multicolored Bohemian Round Flower Pots for a pop of color and eclectic style.
That Extra Touch
We think this 11-inch Classic Cement Round Tray is that perfect extra touch to your patio décor. It adds a perfect backdrop for potted plants, keeping your beverage and reading material, or even placing snacks. It's simple design really allows it to shine with any style of décor. Another fun extra touch can be outdoor lights, so when the sun goes down you can still enjoy our perfect outdoor space.