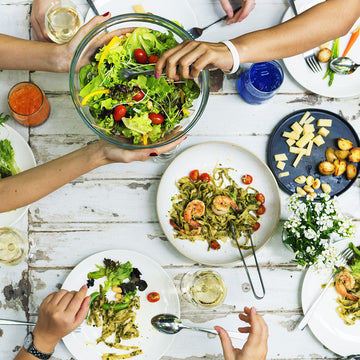 Now that the weather is warm summer salads can be a refreshing way to incorporate the seasons freshest produce. Salads are great for feeding a crowd, getting in those important greens, and can go with anything from bbq to gourmet cuisine. If you are looking for a light side dish or a main course, these salads will be a showstopper at any outdoor soiree.
Blackberry Goat Cheese Salad
Ideal for late summer when blackberries are their ripest, this fresh salad incorporates pistachios, chèvre with a honey-mustard vinaigrette paired with a peppery arugula base. Literally ready in minutes, this salad is perfect for any summer night.
Tomatoes Simmered in Olive Oil with Cotija
Paired with your favorite loaf of fresh bread, this dish is a mix between a fresh tomato salad and a tomato sauce. Perfect as an appetizer or side dish this will be a go-to recipe all summer long.
Chicken, Nectarine and Avocado Salad
Combining nectarines and avocados with fruit and nut granola? How have we never thought of this before? Topped with feta cheese and poppy seed dressing, this salad hits all the perfect notes of savory, crunchy, sweet and juicy.
Mediterranean Watermelon Salad
Nothing says summer more than sweet juicy watermelon. This light and zesty salad is dressed with honey-lime dressing and creamy feta, and pairs well with chicken or shrimp kabobs.
Chilled Cucumber Salad
Nothing is quiet as simple, or invigorating, as a cucumber salad. Perfect as a side dish or paired with your favorite white wine, this 5 ingredient recipe can be savored once created or left to marinate for days of enjoyment.
Broccoli Salad
Crunchy, sweet, crispy, and savory, what more does a salad need? Feature this classic broccoli salad at your next barbeque or pool party for a real summer kick.
Pasta Salad
Tossed together in less than 30 min, this salad brings tangy vinaigrette and fresh veggies to the party. Ideal for any cookout this salad will pack a flavorful punch.
Grilled Corn Salad
Inspired from flavors of Mexican street corn, this corn salad combines smoky, creamy and savory all in one. Serve with salmon or shrimp for a real summer-time feel.
Green Salad with Turnips, Strawberries, and Pepitas
Everything you want in a summer salad neatly placed on a bed of spinach, this salad has strawberries, fresh lemons, mixed herbs and pepitas for that perfect fresh and revitalizing salad.
Summer Fruit Salad
A great addition to any summer spread, and popular with the kids, you can toss together any in-season fruit for the perfect fruit salad. Coat with a special dressing of honey, orange, and lime to keep the fruit from turning brown.