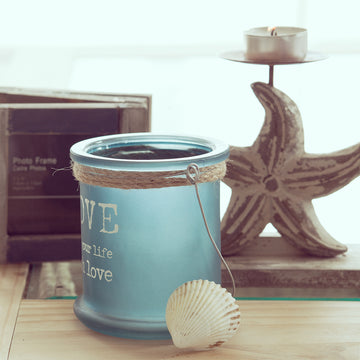 With summer almost in full swing, it might be time to change up your spring décor to more of a summertime feel. One of the best ways to switch up your style is adding some beach house inspired designs to really make you feel like your vacationing in Cape Cod with the beach right outside your door.
Along with adding sand, seashells and vintage bottles to your décor, we've come up with some staple pieces that will bring function and beach-style anywhere in your home.
The Typical Beach Sign: This may seem a basic step into adding nautical décor, but it packs a big punch with bold letters, and script text, these individual letters can be displayed on your mantel, table, or shelf for that rustic sand-worn look.
Hanging Towel Hooks: If you need a place to hang your towels after a long day relaxing in the sun or by the pool, this nautical beach theme wall rack is perfect for letting your towel naturally air dry. The 3D sculptural starfish, seagull and seashells with worn white wood backing makes you take a trip to the coast in an instant. You don't need to be by a beach to enjoy this rack, place it in your bathroom or entryway for some change to your typical décor.
Surfboard Rack: Ok you might not be catching any gnarly waves, but this wall mounted rack exudes beach-house with it's whitewashed wood finish. You can easily store standup paddle boards, long board, skateboards, or even (I date say) your snowboard or skis.
Decorative Glass Bottles: These bottles are the quintessential style of nautical, with their netting rope design and clear glass bottles, it looks like something salvaged from a shipwreck or would contain a secret message or treasure map. Although these bottles are best used for flowers or incense, you can only imagine what else they could be used for.
Whitewashed Wood Serving Tray: When we think of beach-house we think of vacation, which means lots of wine. Why not add some beach-style to your serving dishes and keep a whitewashed wood serving tray around for those afternoon cocktails, or snacks. Best part, they can double as a decorative piece for your ottoman or coffee table when you aren't serving drinks.
Happy Place Sign: This one is sort of a no brainer, happy place = beach, and people should know! Because why wouldn't the place with soft luscious sand, soft rolling waves and warm sun be your happy place. This sign really says it all, and adds the beach-worn look to your wall.
Nesting Storage Crates: Switch out your storage boxes or baskets for something more coastal, like these rustic multi-colored storage crates. Each crate comes in a different size and has rope handles for a nautical accent and easy portability.