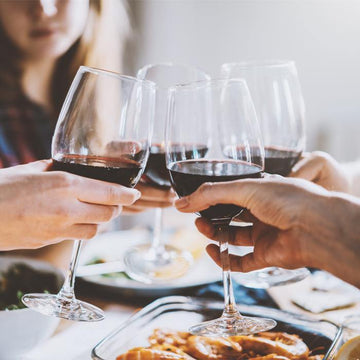 Sometimes it's hard to make it home for Thanksgiving with expensive flights, severe weather or long car rides, but that doesn't mean you need to miss out. Gather your friends together and have a fun filled Friendsgiving. One of the great things about Friendsgiving is you get to invite whomever you like, no family drama or 20 questions from Aunt Hilda. We've got you covered with a heap of great ideas to host the perfect Friendsgiving.
Posh Silverware | Ivory Flared Plates | Autumn Print Napkins
Table Settings: Don't worry about breaking out the fine china or linens (unless you want to), the easiest route to go is disposable. Luckily nowadays recyclable plates, cups, napkins and silverware come in stylish options, so your tableware looks sophisticated, fun and fresh.
Copper-Tone Wine Glasses | Gather Wine Glasses | Happy Gobbling Wine Glasses
Glassware: Go for something fun and fancy for your drinks since they might become the most consumed item of the night. Stemless wine glasses are perfect for both red and white wine, and also make the perfect vessel for cocktails.
The Food: The most important part of any get together is the food. One of the great things about Friendsgiving is you can assign each friend a specific dish to bring so the host isn't stuck with feeding everyone. Typically, the host will prepare the main dish and let the guests fill the table with all the delicious trimmings. This is the easiest way for the vegan, gluten-free, dairy-free or paleo guest to bring a dish they will enjoy, and everyone wins.
Wine Corks | Mini Chalkboards | Clothes Pins
Labeling: With a buffet or potluck style, labels are the perfect way to inform everyone of the amazing dishes available. If you are having a more formal setting create a seating chart, so Barry isn't next to Chris who both like Stacey who just broke up Dan…You catch the idea, and can make dinner a breeze and comfortable. Small chalkboards, reusing old wine corks or etching clothes pins are adorable ways for creating names places and labels.
Codenames Board game | Get Outdoors | Adults Charades
Activities: After you've hit your food coma, find a fun way to relax with friends or enjoy the great outdoors. Play a game of flag football, make fun crafts, bust out the board and card games, veg in front of Netflix or Hulu. Whichever activity you decide to engage in, be sure to remember what your thankful for.
Best of Both Worlds: Even if you are planning on having Thanksgiving at home or with family don't rule out a Friendsgiving. Instead of the tradition Thursday dinner, make it a Friendsgiving Brunch to let friend's carb up for Black Friday deals. Let's face it after a day of eating the best thing to do is keep eating.