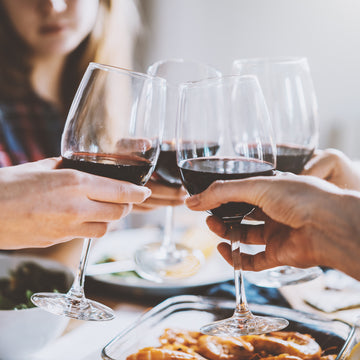 Whether you are hosting a glamorous holiday party or casual game-night with friends, it is important to have the right tools to accommodate your guests. This guide will help you best  choose the essentials you need for you parties and with these simple accessories in your hosting arsenal, any party will end in an applaud to the hostess (or host).
Bar Cart
Simple, yet very effective, a bar cart is a hosting must-have. Not only can it hold all of your beverages, it creates extra space to display treats, foods, décor, or even for mixing up cocktails or putting together charcuterie boards. Since they are mobile, they can be relocated from preparation to presentation in seconds.
Glassware
Cocktails, wine, beer, or even water, the vessel that it goes in is vital to your guests experience of drinking your perfectly curated beverage. Best way to start is with both red and wine glasses, those will probably get used the most. Next invest in a set of whiskey glasses. From there you can really go wild, coupe, champagne, martini, and other fun cocktails glasses can be added to your barware. Be sure to also include some pint glasses for the beer lovers too.
Cheese Boards
Charcuterie and cheese boards are a perfect appetizer for most parties. They are simple to put together and always make for the perfect personal selection of flavors, and of course, they look great on social media. The serveware doesn't need to stop there, cheese boards can include any type of cutting board, serving tray, or tureen, giving them a unique look for your party snacks.
Candle Holders
Although some may consider candles to be an unnecessary addition, to a host, these are essentials. They set the mood, warmth and ambiance without people even realizing it.  Place candles on tables, shelves, or entryways to invite people in. Be sure to place them out of harms way so they don't get knocked over.