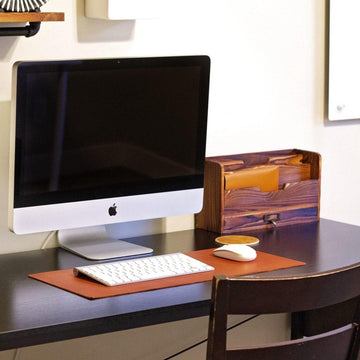 An important part of working from home is being able to focus. But if your office space is so cluttered and overwhelming it can be easy to get distracted. So with some areas of your home, in order to increase productivity, less is more! But when a lot of people hear the word minimalist, they think of bare, stale, and without style.
12 ways to create a highly functional home office
Our guest author Michelle Hansen is sure: You can have both! She shares with us her 12 tips to achieve a minimalist home office design that still has some pizzazz.
1. Define your space
The first step to designing any room is to define the space. This means that you need to set aside a specific place designated just for an office. That may seem a bit obvious but if you take the time to create a specific place for your home office, you can finally get your computer off the dining table!
You don't necessarily have to have an entire room devoted to an office, but designating a specific place for some sort of office will really help you to keep things clean and organized.
2. Declutter
After you have decided where you want to put your office, the next step is to declutter. Paper seems to be a huge culprit of office clutter but it doesn't have to be! I use every opportunity that I can to get rid of paper, or even sign up for online billing only.
I have a rule of thumb that I use when it comes to paper clutter. My rule is that I only touch that piece of paper once. When you get the mail out of the mailbox, go through it right then and decide what goes in the trash, and what you need to keep. If you have bills that come in the mail, put them in a specific folder and make sure to go through the folder frequently so it doesn't get overwhelmingly full.
Decluttering your office space will really help you to see what things you really want to keep in that room. Get rid of things that you don't use anymore.
3. Decide on a Budget
Interior design can get expensive really fast! So decide on a budget for yourself so that you don't go overboard. Interior design doesn't always have to be expensive though. Get creative with the ways that you decorate or where you buy your supplies from. There are tons of tutorials and ideas online for making budget friendly shelves, decorations, and office organizers. The good thing about designing a minimalist home office is that you won't be needing as much 'stuff'!
4. Don't let it get boring
The definition of minimalist is a person who is interested in keeping things very simple. I believe that simple and beautiful can go hand in hand! 'Minimalist' doesn't always have to mean boring or bland. You can add style to your office while also keeping things clean and orderly and simple. 
5. Be inspired
If you're having difficulty getting some ideas for your home office, I really love going to Pinterest or Google Images for ideas! Gather a bunch of ideas that you like and see what the common threads are throughout those photos. Does it seem that you like black accents? Do you like gold better than silver? Do you like a big bulky desk or a simple tabletop?
These are the types of questions that you should ask yourself in order to help you define what style you love. As you ask these questions, write down your answers! This will help guide you as you are choosing decorations or furniture. You could even create an inspiration board!
6. Choose the right Furniture
After you have gotten some inspiration, pay attention to the types of furniture that you were attracted to in those photos. Are you the type of person that loves a big fluffy white office chair? Or do you want a modern chair made out of walnut with padded black leather?
You also need to pay attention to the number of things that you need to store in the office. If you have a lot of stuff still left over after your declutter session, then I suggest buying a desk that has a lot of storage space.
7. Add some storage
As you can see in my husband's office, We have a very simple design because we really don't have much to store in this room other than computer accessories. For that reason, I chose a desk with a pouch as storage option. It has been plenty of storage space for my husband to store his coasters, headphones, and anything else he needs.
In my office, I always need lots of storage so I made sure to buy a desk that had tons of drawer space. This would also be a great time to declutter and organize the office closet if you have the luxury of having a closet in your office. This will really help you to keep things straight!
8. Add some Decor
I really love this Industrial shelf that I found from MyGift. It fit perfectly into the theme I was going for in his office. The color was exactly what I was looking for and the industrial pipe definitely added to the masculine feel.
They also have a coordinating Desktop Paper Organizer that is great for holding his papers. It even has a small drawer to hold his pens and other small random items.
9. Bring in Plants
Without fail, whenever I am looking at the space that I have designed, and I feel like it is "missing something" it is almost always greenery! There is something about plants whether fake or real, that really finishes of a design space. It's almost like magic!
I am pretty obsessed with plants so when I saw these White Rectangle Wall Planters, I was sold! The best part about these is that they don't take up any more space on the actual desk, so there is more room to work. I am also a huge fan of terrariums so these Pyramid Terrariums were a must. I just filled the bottom with white rocks (from Dollar Tree) and then put in small pieces of a greenery from a craft store.
10. Add a touch of personality
Sometimes offices can get a bad rap for being a place that people don't want to go to because they usually correlate it with work. But if you take the time and effort to put your own personality into your office design, then it will make you significantly more excited to work from home! This goes back to the Pinterest ideas that you used to inspire you for your office design. But now it's all about adding in the finishing touches or the decorations that fit you!
My husband is a pretty manly guy so I wanted to make sure that his office wasn't overtaken with my female ideas! I really tried to put in masculine undertones in the decor by using industrial shelving, and brown leather!
11. Add a Whiteboard or Cork Board
It is super important to have a space where you can write down your ideas, inspirations, or motivational quotes. This is your creative space where you are free to dream, work, write down your goals, or even stay organized! We added a large whiteboard to my husband's office.
12. Commit to keep things clutter-free
My last and final tip for keeping a minimalist home office is to keep your office clutter free. Take 2-3 minutes at the end of each work day to put any papers where they need to go and clear off the top of your desk. At the very least, straighten all paper clutter and put it into a pile or an organizer. It'll make your office much more inviting the following morning. Happy decorating!
Please visit Michelle's Blog "Practical Perfection" for more organization and home decoration ideas!
Our MyGift Shop offers more office storage and organization inspiration for your home office and beyond!