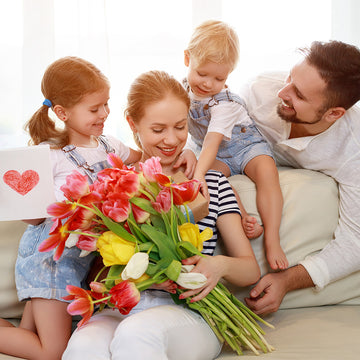 You are probably the type of person who has already planned out the perfect gift for mother's day, but if your busy schedule got away from you, or you just want to add something a little special to Mom's day, we've got some ideas to help make mom even more appreciated, without having to buy more stuff.
Nature Walk
Take mom outside for a nature walk to enjoy the fresh air. Mountains, forests, ocean, lakes, or even just around your neighborhood, mom will love spending time with the family while getting some vitamin-D. Take your walk to another level and plan a picnic at the end of your walk.
Breakfast In Bed
Let mom relax in bed with a classic breakfast spread. Whether she's a smoothie mom, or loves her eggs and bacon, get this kids (or yourself) together and whip up a heartfelt breakfast feast. Don't forget her favorite beverage!
Give Mom A Break
This doesn't mean you can't spend the day with her, but let her sleep in that extra hour, take a few hours to herself to read that book she wants to catch up on, or binge watch some TV. Sometimes time alone can be a good refresh for a busy mom.
Plan A Spa Day
You don't need to spend hundreds of dollars to make mom feel relaxed and refreshed, plan a spa day for her at home, with manicures, pedicures, and face masks. This way she'll get to enjoy the spa with her favorite people around. Don't forget the cucumber water and lemon scented candles!
Make Something
Break out the crayons and colored paper and make mom something from the heart. No matter if you have kids or not, homemade gifts are cherished and can be super fun to make as well as give. Make a card, a coupon book, or a origami flowers, that mom will enjoy for years to come.
Fresh Flowers
Mom doesn't always need an expensive bouquet of long stem roses, sometimes the best flowers are the ones you pick yourself. Raid your garden or local flower shop for a wildflower bouquet or arrangement that will be as unique as she is.
If you're still looking for those last minute gifts, check out our Mother's Day Gift Guide.