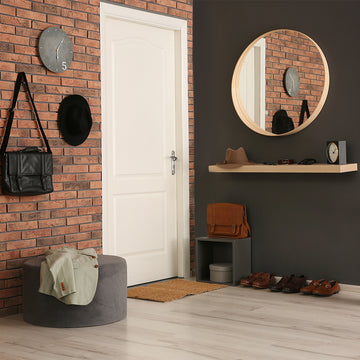 Your entryway can quickly become the catch-all for shows, coats, backpacks, and sports gear for the entire family. Being the first thing you see when you enter a home, it's important to keep this space clutter-free and well organized for when guests come to visit and your own sanity. These solutions will help you keep your entryway running smoothly and add stylish organization to your everyday dump-zone.
Shoes: Shoe storage can be anything from a boot tray to designated cubbies or shelves for each family member. If you are headed into the rainy season or winter months, keep a tray in the garage or entryway to help keep your floor clean from puddles. With a multiple person household, try adding designated baskets, bins, or shelves for each person to keep their essential footwear without cluttering the front door.
Coats & Bags: Having a place to hang coats, jackets, hats, umbrellas, and handbags can make a big difference in keeping your entryway organized. Designate a hook for each person in the house, so each item has a place and won't get tossed on the floor. Consider a wall mounted coat rack to help save space as well.
Keys: One of the most lost items in the house, a key hook system can be the ideal solution so you never have to go searching for your keys again. Multiple hooks mean you can keep your car keys, work lanyards, office keys, or shed keys in one specific place so when you head out the door you aren't spending that extra 15 min looking for keys. If you've got the space and a table, adding a small dish or bowl can be another great place to keep keys.
Mail: Wall baskets or tabletop organizers can do wonders for organizing those letters and bills that can go forgotten. Designating inbox and outbox systems with labels to keep mail efficiently organized so those bills don't get passed due, or wedding invitations lost. Keep large baskets on a tabletop or mounted on the wall that can hold large envelopes and magazines or can even hold personal items like sunglasses and wallets.
Console Table: These featured furniture pieces can be a great addition to your entryway. Creating table space for decorative items, key bowls, mail organizers, and cupboards for keeping bags and shoes in and allows for decorative items to be displayed.
Stand Alone Organizer: For smaller spaces consider a piece that provides everything from bench to key hooks, it will do wonders to keep your entryway flowing perfectly.  
Wall Station: For a busy household with multiple schedules, an entryway organization station can be the perfect solution for keeping notes, memos, soccer game schedules, mail, and keys for each family member. Try an organizer with a chalkboard, whiteboard, or cork board for easy reminders.
Closet Storage: If you've got a closet in your entryway, this can be the perfect place to keep all the essentials well organized. Add door hooks or racks to keep shoes or bags, add functional systems instead of just one hanging rail and get even more space out of your closet.