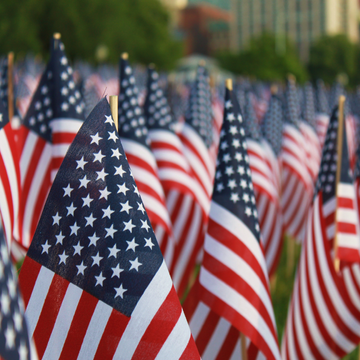 This memorial weekend is a bit different than previous ones. With a lot of states still encouraging stay at home orders and with social distancing in place, due to COVID-19, most of the typical parades, ceremonies, large gatherings, or events won't continue. But that doesn't mean we can't honor the fallen military personnel with families or individually.
Lay Flowers or Flags at your local Veteran's Cemetery.
Memorial Day, previously known as Decoration Day, was a day to decorate the graves of the fallen soldiers of the Civil War. Now, Memorial Day has been extended to all military personnel who have died while serving in the United States Armed Forces.
Virtual Celebrations
Virtual Celebrations can be a great way to gather friends and family to celebrate. Many cities will be holding virtual concerts, 5k runs, and other events, so be sure to check your local listings to be able to celebrate with your town, while staying safe.
Create A Tribute Post to a fallen family member or loved one
Write a story, a memory, or post a picture on any social media outlet to honor and remember someone close to you, or for all who have served.
Wave a Flag for the fallen
Display the stars and stripes at home in honor of the men and women who have died while serving the United Stated Armed Forces. Check these links out if you need any information on Flag Etiquette, or United States Flag Code.
Donate to your local Veterans or charity organization that helps military families, wounded warriors and others. This can mean anything from clothing and household items to cars or cash.