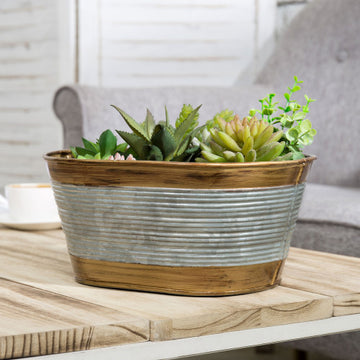 Everybody loves a touch of greenery in any indoor or outdoor setting. Bringing a dash of plant life to a space can really warm it up, make it feel welcome, and bring a breath of life to your décor. Nowadays there are a variety of options for both life and artificial plants that it can be a tough decision which is best for you and your environment. To help you decide which plant is perfect for you, we've compiled a list of pros and cons to help you narrow down your decision and decide whether it is good to keep artificial plants at home or not.
Benefits of artificial plants: 
There are many benefits of fake plants, including:
Durable
Artificial plants are usually plastic or silk and can withstand a lot more movement, cold and hot air, or natures elements unlike real plants
Low-Maintenance 
Besides the occasional dusting, artificial plants don't require sunlight or water, making them ideal for busy environments or those lacking a green thumb
Instant Décor 
Since these plants don't shrivel up or turn brown, they look vibrant all year-long giving your home or office décor that much needed boost of energy
Reusable 
Faux plants are great for reusing over and over again for birthday party or event décor, to weddings, to photoshoot props for your Instagram posts
Environment 
Unlike live plants, artificial ones are not subject to the environment you live it, so you have more options for to decorate your space

Cons of artificial plants:
No Health Benefits
Unlike real plants, artificial plants cannot clean the air or toxins that some plants can; There are even studies that show they can help patients recover faster from surgeries according to the JACM (Journal of Alternative and Complementary Medicine)
No Blooming 
An exciting thing about real plant is watching them grow and bloom, which you don't get with fake plants
That "Real Feel"
An obvious reason for choosing real plants over fake is the authenticity of real plants, they give off a vibe and have that specific 'feel' of a real plant
Not Indestructible
Fake plants, such as floral arrangements or petals, have the tendency to fade over time from the sun or other elements
How to find the perfect plant for your style
Want to find the perfect artificial plant for you? Check out all the options and varieties we offer HERE.
Love real plants? Check out our stylish planter pots for all types of plants HERE.