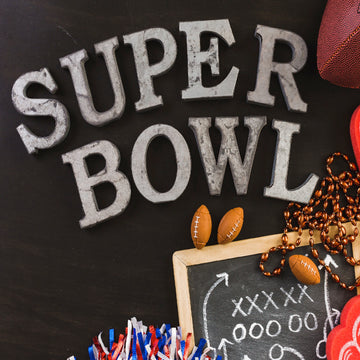 Get ready for the Kansas City Chiefs to take on the Tampa Bay Buccaneers Sunday, February 7th for Super Bowl LV. The best way to watch the game is always with plenty of food, drinks, and the occasional loud cheer for touchdowns. Check out our list of finger foods, both classic and gourmet, to enjoy during each quarter of the big game.
Pre-Game
Picture: Thespruce.com
Before kick-off, start the pre-game excitement with a variety of cool beverages. Pick things up with a Summer Time Shandy for a refreshing twist on traditional wheat beer and three simple ingredients. Looking for something with more of a punch? Try whipping up a Spicy Cucumber Jalapeno Margarita for a fancier take on the traditional margarita. If you are searching for something the whole family can enjoy, try this Easy Party Punch for kids and adults.
Check out our DRINKWARE to pair with the perfect cocktail or beer for the occasion.
Half-Time Show
Picture: marthastewart.com
Keep the finger foods flowing through the half-time show and wow your guests with an array of snacks both classic game day appetizers and some show stoppers as well. A bit of a twist on pigs in a blanket are these Pull-Apart Pigs in a Blanket, with two simple ingredients and a spicy siracha mayonnaise dip. Honey Garlic Chicken Wings are the perfect sticky delicious sweetness to add to the appetizer tray.  Be sure to add some salty Soft Pretzel Bites to the menu, with a beer cheese or regular cheese dip. Make any of these dishes foot-ball themed by creating them into a football or stadium shape.
Check out our SERVING TRAYS to make sure all your party foods are displayed and ready to devour.
End Game 
Picture: Domesticfits.com
Now matter how the game turns out for your team, be sure to provide plenty of celebratory, or comforting, desserts to devour. Chocolate Strawberry Footballs are the perfect fresh, tasty, and adorable treat for game day. Toss together a Football Puppy Chow for easy grab and go style snacking. And you can't go wrong with try Touchdown Brownie oozing with caramel, pecan topped on fudgy brownies.
Keep your desserts diving displayed with any one of our CUPCAKE STANDS.
Ways To Stay Safe
Be sure to follow the CDC guidelines to stay safe this super bowl weekend. Consider hosting a virtual party so even more friends and family can enjoy the fun. Take the game outdoors and set up a projector for a social gathering that's safe for everyone. Be sure to sanitize and wash your hands often, wear a mask and stay 6 ft apart when possible. Keep it entertaining with games everyone can enjoy.