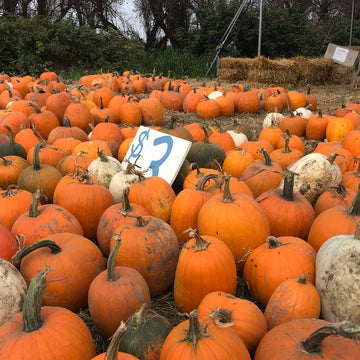 Now that it is almost October, it is time to start thinking about one of the most essential Fall decorations, baking staples, and the famous Jack-O-Lantern décor, the pumpkin. But not all pumpkins are created equal. Ever wonder which gourds make the perfect pumpkin pie or jack-o-lanterns? We've compiled the perfect pumpkins for each fall occasion, so picking from your patch is simple and enjoyable.
For Cooking & Baking – These pumpkins are great for a variety of savory and sweet baking dishes, pies, muffins, breads or smoothies.
Cinderella – Perfectly orange and similar to the famous Cinderella carriage, these pumpkins are great for butters, soups and pickling
Cushaw Green Striped – Surprisingly these are pumpkins, with their curved necks and white and green stripes they wonderful salads, custards, pies, and purees
Red Warty Thing – Yup, that is it's name. Similar to hubbard squash, these warty, bumpy pumpkins have a sweet flesh that is great for cooking, roasting, and pickling, or just set up for fun fall décor
Cherokee Bush – A basic pumpkin, perfect for cream based soups, or pureed for muffins and pancakes recipes
Baby Bear – This pumpkin is the best for pumpkin pies
Early Sweet Sugar Pie – Living up to it's name, this pumpkin variety is great for sweet muffins, breads and pies
Small Sugar – The classic gourd for making pumpkin pies with a bright orange skin and petite size
For Decorations – Most pumpkins make wonderful decorations, but these make your seasonal décor extra special and unique, and most of them can be used for baking too.
Fairytale – Not only whimsical and aesthetically pleasing, these large pumpkins make a wonderful centerpieces and accents
Pepitas Hybrid – These speckled green and white flesh pumpkins make a dazzling display for Halloween or Thanksgiving decorations
Jill Be Little – miniature pumpkins that are perfect for shelves and tables
For Carving – Although you can technically carve any type of pumpkin, the best varieties to carve will have a thinner flesh and less guts and seeds to make them easier to clean.
Captain Jack – Extra large pumpkin variety makes wonderful jack-o-lanterns
Magic Lantern – Perhaps the most "Halloween" pumpkin out there, its dark orange color and medium size make it ideal for carving
Jaune De Paris – Also known as Jaune Gros de Paris, these beautiful pumpkins usually come in a yellow-orange color and can grow up to 100 lbs and are very popular in France
Moonshine Pumpkins – White in color and small-medium sizes, these pumpkins make unique decorative or carved pumpkins for the fall season
Check out our other pumpkin related blog posts:
Best Fall Recipes: Pumpkin Everything!