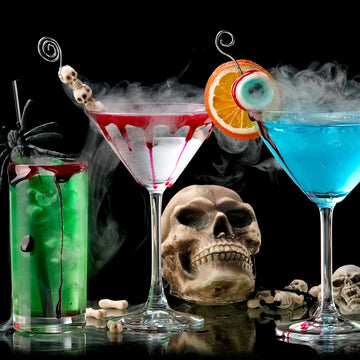 Halloween is just around the corner, and that means it's time to start planning the ultimate spooky celebration. While costumes and decorations are essential, no Halloween gathering is complete without a lineup of spine-tingling cocktails. Whether you're hosting a haunted house party or simply enjoying a night in, these Halloween cocktails are sure to add a ghoulishly good touch to your festivities. So, let's raise our glasses to some devilishly delightful drink recipes that will cast a spell on your taste buds!
Start your Halloween cocktail journey with a crowd-pleaser – Witch's Brew Punch. This eerie elixir combines vodka (or gin), blue curaçao, and lemon juice, soda water, creating a vibrant concoction. Garnish with floating lychee "eyeballs", or a sprig of thyme, for that extra eerie effect. It's a spellbinding way to kick off the festivities!
For a hauntingly delicious twist on a classic, try the Blood Orange Margarita. This cocktail combines tequila, blood orange juice, lime juice, Cointreau, and simple syrup. The deep crimson hue and tangy flavor will leave your guests bewitched by its taste.
Channel your inner Snow White with a Poisoned Apple Cocktail. This sinister sipper features apple cider, cranberry juice, fireball whiskey, and a splash of grenadine, and edible gold glitter. Serve it in a black martini glass with a slice of apple for a wickedly tempting presentation.
The Black Widow Martini is as dark and mysterious as the night itself. Blend vodka, blackberry liqueur, activated charcoal, lime juice, simple syrup, and a dash of orange bitters for a cocktail that's both sweet and sultry. Garnish with a blackberry or a twist of lemon for a creepy-crawly touch.
Capture the essence of autumn with a Caramel Apple Mule. This twist on the classic Moscow Mule combines caramel vodka, apple liqueur, lime juice, ginger beer, and a drizzle of caramel sauce. It's the perfect balance of sweet, spicy, and refreshing.
No Halloween party is complete without a Zombie Punch to resurrect the spirits. This tropical delight combines light and dark rum, Cointreau, lime juice, and a whole lot of other delicious flavors. Top it off with a cherry and a slice of orange for a deadly delicious drink.
Halloween is a time for creativity, fun, and a little bit of spookiness. These Halloween cocktails are the perfect way to infuse your celebration with a touch of eerie elegance and flavor. Whether you're a mixologist extraordinaire or just looking to serve up some spooky spirits, these recipes will ensure that your Halloween gathering is a chilling success. So, gather your ingredients, dust off your cauldron, and get ready to toast to a night of hauntingly good fun!