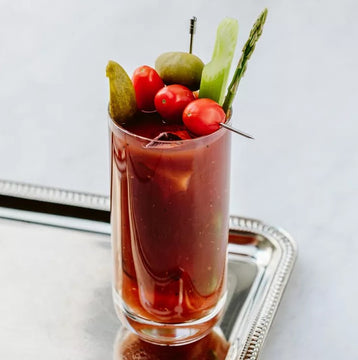 Everyone knows the best meal of the day is brunch. The infamous cocktail hour between breakfast and lunch that serves both waffles and salads. We know the food is always it but mimosas don't need to be the only star of the cocktail show during brunch. We've gathered the perfect list of a bit different bubbling champagne cocktails to meals-to-drink cocktails, we're looking at you Bloody Mary. So toast this weekend's brunch with a little something different to sip on from our list of favorite brunch cocktails.
Refreshing and bubbly, this cocktail is perfect for brunch and summertime. Switch out the sparkling wine for some club soda or sparkling water for a non-alcoholic version.
Popular in the 1970's this tropical drink was created at the Soggy Dollar Bar in the British Islands. A blend of rum, pineapple juice, coconut, and orange juice, this cocktail is perfect with brunch or an afternoon of lounging on a tropical beach.
Who doesn't want a little pick-me-up with their cocktail, and this one will get you both buzzed and perked up. Switch out some of the classic ingredients for cold brew coffee or bailey's but however you concoct it, it will be the best part of waking up.
Typically a Bloody Mary is made with vodka, but that doesn't mean it need to exclusively be made with vodka, or tomato juice for that matter. The Bloody Bulldog begins with Bulldog gin, but really any London gin will do. Other mix-ins include traditional tomato juice, lemon juice, horseradish, Worcestershire sauce, and of course you can garnish with celery  or whatever tickles your fancy.
Easily a crowd favorite, this Brunch Sangria incorporates chardonnay with orange juice, grapes, pears or apples. Or use all three, go wild! It is brunch after all.
Add a touch of tropical flair to your tequila sunrise. With all the regular fixing of a tequila sunrise, this special version adds a splash of pineapple juice that makes it even more special.
Related Posts: