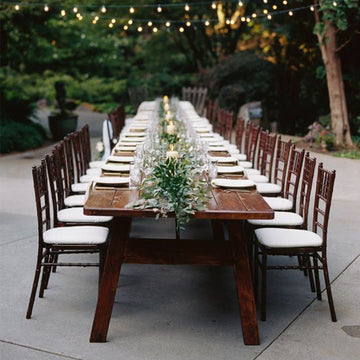 When it comes to planning your big day, you may feel like you need elaborate centerpieces, three different wedding dresses, or a live performance of doves or butterflies to carry your vail down the aisle. But it is important to remember that there is beauty in simplicity, and in the end the thing that matters most is the bride and groom.
Instead of eliminating the details, you want your design to look intentional rather than thrown together. Take away the fluff and focus on the bar minimum. Use the elements that are already in place at the venue, the greenery, the lighting. Stick with a neutral and natural color palette for sophisticated and crips look.
If you are the type of bride that is effortlessly cool, and finds the beauty in simplicity and minimalism, then here are some design tips to make your wedding elegant, yet naturally chic.
Make it Exclusive
For a minimalist wedding feel it is important to keep the guest list at a minimum. Invite all the A-list guests, but not every great uncle-once-removed needs to be invited. This makes for a cozier ceremony and reception, including fewer chairs, tables, drinks and food.
Create A Mood
From the start you want your wedding to be fluid and cohesive. This starts with the first thing you send guests, the invitations. Think simplistic lines, high quality paper, with elegant text. Add a splash of metallic to your lettering or envelopes, but don't go over board with the photos or backgrounds.  
Let Nature Be Your Backdrop
When choosing a venue, opt for something that speaks for itself. Industrial spaces with high ceilings are a popular choice, or even something with no roof, like a mountain top or meadow. With this open space your don't need much to make it beautiful. Consider adding a unique backdrop to your altar, or greenery to your chairs for your ceremony.
Uncomplicate Your Attire
When looking for a wedding dress or suit, try to stick with clean lines with a structured silhouettes. This doesn't mean you need to go simple, add details like lace, beadwork or corsets to a wedding dress. Stick to a monochrome color palette for the wedding party and groom, think black, navy, beige, cream, or taupe.
Combine Naturals with Neutrals
Use simple linens, plates and vases, think clear, white, or beige, with added greenery and soft white flowers or greenery to centerpieces. 
Simplify Your Ceremony
This includes everything from the I Do's to the seating. Keep your ceremony short and sweet, with minimal quotes and vows. Keep your wedding party to a minimum, keep the closest people by your side and let the rest enjoy being apart of your special day with the rest of the guests. Ditch the traditional folding chairs and opt for some benches, or even plush cushions for after the ceremony for guests to relax. Add a small backdrop or greenery to your aisle or altar, but don't over do it.
Geometric Shapes
Add geometric shapes to centerpieces, wedding cakes, backdrops, votive candle holders and other places that hold focus or you want to emphasize.
Check out our Wedding Collection for unique décor to add to your wedding day.
Related Posts:
How To Plan A Small Wedding So You Don't Have To Wait To Celebrate
Ideas to Create Your Rustic Wedding Dream
6 Chalkboard Wedding Sign for Your Big Day
Rustic Ideas for A Small Wedding