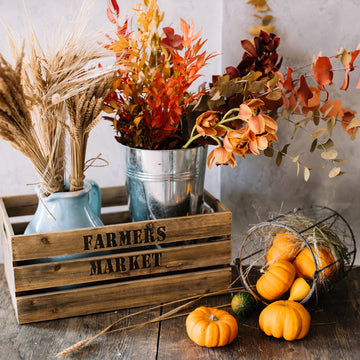 As the temperature starts to drop and the leaves begin to change color, there's a certain magic in the air that signals the arrival of fall. It's a time for warm beverages, cozy sweaters, and, of course, a home adorned with all the beauty and charm this season brings. Whether you're a fan of rustic aesthetics or prefer a more modern approach, decorating your home for fall can create a welcoming and inviting atmosphere. In this blog post, we'll explore seven creative ways to infuse your living space with the spirit of autumn.
1. Warm Color Palette
One of the simplest and most effective ways to transition your home into fall is by incorporating a warm color palette. Think deep oranges, rich burgundies, golden yellows, and earthy browns. Swap out lighter throw pillows and curtains for ones in these cozy hues to instantly transform the ambiance of your living room or bedroom.
2. Nature-Inspired Décor
Bring the outdoors in by incorporating nature-inspired elements into your decor. Collect fallen leaves, pinecones, and branches to create charming centerpieces or wreaths. Fill glass vases with acorns or small pumpkins for an effortless yet impactful touch of nature's beauty.
3. Cozy Textiles
Fall is all about comfort, so make sure your home reflects that with an array of cozy textiles. Swap out lightweight summer throws for chunky knit blankets and plush, textured rugs. Drape soft, autumn-colored throws over your couches and chairs for both warmth and style.
4. Pumpkin Paradise
No fall décor is complete without pumpkins. From traditional orange ones to elegant white or even metallic varieties, pumpkins are incredibly versatile. Arrange them on your front porch, line them along your mantel, or create a stunning centerpiece for your dining table. Don't forget to get creative with pumpkin carving or painting for a personalized touch.
5. Candlelit Ambiance
As the days get shorter, create a cozy and inviting atmosphere with candles. Opt for scents that evoke the essence of fall, such as cinnamon, apple, or vanilla. Place candles in lanterns, mason jars, or decorative candle holders to add warmth and soft lighting to your spaces.
6. Seasonal Artwork and Prints
Switching up your artwork or adding seasonal prints to your gallery wall is an easy way to embrace the fall theme. Look for pieces that feature autumn landscapes, harvest scenes, or cozy moments. These additions can instantly transform the mood of your living spaces.
7. Tablescaping with Harvest Flair
Bring the fall spirit to your dining experience with beautifully arranged tablescapes. Layer your table with rustic placemats, earth-toned dinnerware, and elegant glassware. Incorporate natural elements like wheat stalks, dried corn, and mini pumpkins to create a stunning harvest-inspired setup.
As the air turns crisp and the days grow shorter, decorating your home for fall is a wonderful way to celebrate the season's beauty and create a warm and inviting atmosphere. By incorporating warm colors, natural elements, cozy textiles, and charming decorations, you can transform your living space into a cozy haven that embraces the spirit of autumn. Whether you prefer a traditional rustic look or a more contemporary approach, these seven decorating ideas are sure to infuse your home with fall's enchanting charm.
Related Posts: