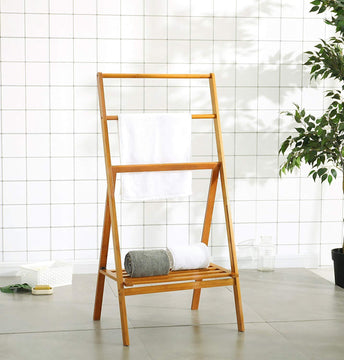 Are you still leaving your wet bath towels in a clump on the floor or in a hamper? Looking for bathroom towel ideas or how to hang towels? Well this post may be for you. Wet, crumpled up bath towels are a quick way to ruin perfectly good towels, and set your bank account back a few bucks. No matter how many times you wash them, you are shortening your towel's shelf life if you're not letting them air out to dry. 
The good news is, hang drying your towels is easy, cheap, and can even make your bathroom look better by adding some texture. 
Most homes nowadays have built in towel racks, or at least a hook to dry your towels, but if you're a frequent bather like us, you might need a bit more space to hang dry all the towels you or your family frequently use. Here are 5 ways to make more towel space, and make sure you know where to hang wet towels after a shower. 
A towel ladder rack not only looks nice, but adds a lot of storage space to hang multiple towels all at once. The rungs allow for multiple towel storage, and can also keep towels folded neatly flat. We like this option as you don't have to do any drilling or additional installation to get it ready for us. 
Similar to a ladder rack, these over the toilet options maximize space in your bathroom by placing it over your toilet. This option is particularly helpful especially in smaller spaces where more room is needed. 
If you're looking for a space saving option with minimal visibility, an over the door towel rack works wonders. Easy to install and no hardware required, some racks simply slip over the door to create an easy space to hang wet towels. 
Another fine option without needing any installation, assembly, or tools, this towel rack simply stands freely in the bathroom, laundry room, or any place you need to add extra towel storage. These are typically designed with a sturdy base to prevent tipping/falling. 
This option is one of the most popular (and could be considered the best way to dry towels after a shower), due to its flexible ability to be placed anywhere in the house, and save space (it's one of the best ways to reduce clutter) while dressing up empty walls at the same time. Typically these racks require mounting to the wall, which can cause holes, but if you get one fairly light, you can hang it without excess damage. 
Where to hang wet towels in small bathroom / How to hang towels in small bathroom
Even in the smallest bathroom, you still have options to keep your towels dry! Given the limited floorspace, it may be best to utilize the wall space, so a over the door towel rack or wall mounted towel rack can be a great option.
Hopefully this helps you find out how to dry towels after a shower! What about you? Where do you hang your towels to dry?